Travel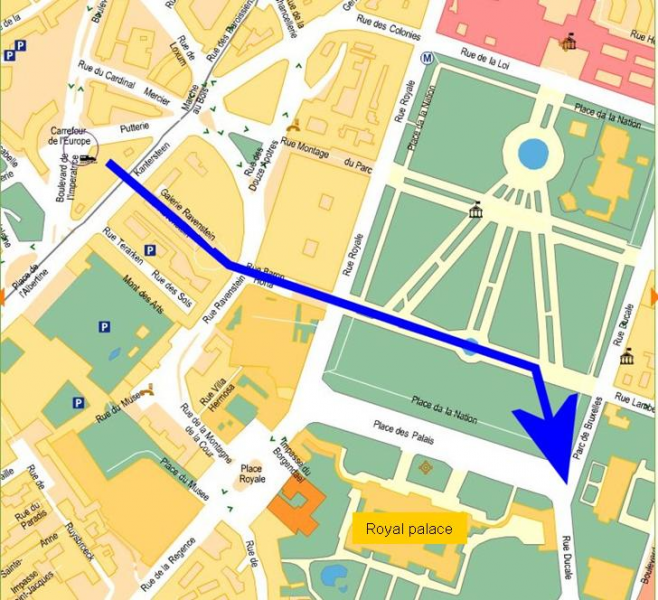 Venue and dates of the meeting: The Third Conference of the European Consortium for the Barcoding of Life will take place between 17 and 20 September 2012 at the Royal Flemish Academy of Belgium for Sciences and the Arts, Brussels, Belgium (http://www.kvab.be/default.aspx?lang=en). It is situated in the heart of Brussels, next to the Royal Palace. It is close to the Brussels Central Railway station (the blue line indicated the shortest route from the railway station to the conference venue). The conference venue is around 100 m from the metro station "Troon/Trône". A more detailed map will be available soon.
Brussels is easy to reach by several means of transport (plane, train, road). Additional information on how to get there can be found at the following sites:
By plane:
Brussels airport: http://www.brusselsairport.be/en/
Charleroi airport: http://www.charleroi-airport.com/
Note: Brussels International Airport is the main international airport in Belgium, with a frequent bus and train connection to the city centre of Brussels (from Brussels Airport: bus no. 21 after 8:00pm and during the weekend; otherwise take express line bus no. 12 that stops a Luxembourg-square which is a ten minute walk from the congress venue). From Charleroi (Brussels South) airport you can easily reach Brussels Midi Railway station with a bus shuttle: http://www.charleroi-airport.com/en/passengers/acces-and-parking/brussel...  
By train:
International train connections from France, Germany, Switzerland, The Netherlands and the UK either stop at Brussels Central Railway station or Brussels Midi Railway station: http://www.b-rail.be
By bus:
International bus connections to Brussels (Europe only): http://www.eurolines.com
By car:
A route planner if you come by car: http://www.viamichelin.com
Travel documents and information:
Please check that you have a valid PASSPORT and that you obtain a VISA if necessary. Check with a Belgian embassy, consulate or representation in your country. You can also find all information about visa requirements for Belgium at: http://www.diplomatie.be/en/travel/visa/default.asp; According to Belgian law you must always have your passport or identity card with you; other documents are NOT VALID to legitimate yourself.
Please note that the conference organization will neither provide a transportation, nor will we pick-up people at airports or railway stations. We count on your scouting talents!
Bank services:
You can withdraw euro's (€) from ATMs (Automated Teller Machines) using credit cards and bank cards. Banks are usually open on week-days from 9:00 to 16:00. Although paying by credit cards is very common in Belgium, it is usually not  accepted for small amounts (e.g. for a beer in a pub or a ticket on a bus). Hence, it is recommended to have some cash in your pocket (small bills and/or coins). Money exchange facilities are available at the airports and in all larger railway stations. Please note that in Belgium only euro's are accepted for cash payments.
Touristic information about Brussels:
http://www.brussels.be/
http://visitbrussels.be/bitc/front/home/display/lg/en/section/visiteur.do
http://www.trabel.com/brussels.htm
http://www.belgiumtheplaceto.be/brussels.php
Useful phone numbers and contacts:
Police (emergency): 101
Ambulance (emergency): 100
Fire Department (emergency): 100
General Emergency: 112
Climate:
Belgium has an Atlantic climate, with temperatures in the range of 15-20°C in September. Also, rain and showers may cool down overheated discussions on DNA barcoding…
Smoking:
According to Belgian law, it is forbidden to smoke in public places. Hence ALL conference facilities are non-smoking areas. Also note that smoking is not allowed in restaurants and pubs although some of these have a special 'smoking room'.
Insurance and disclaimer:
Registration fees do not include insurance of any kind. All delegates must make their own individual arrangements with respect to travel, medical and other insurances.
CONFERENCE ORGANIZERS WILL NOT TAKE ANY RESPONSIBILITY FOR ANY PARTICIPANT FAILING TO INSURE. SIMILARLY, THE CONFERENCE ORGANISATION WILL NOT ACCEPT LIABILITY FOR DAMAGES OF ANY NATURE SUSTAINED BY PARTICIPANTS OR THEIR ACCOMPANYING PERSONS OR LOSS OR DAMAGE TO THEIR PERSONAL PROPERTY AS A RESULT OF THE THIRD CONFERENCE OF THE EUROPEAN CONSORTIUM FOR THE BARCODE OF LIFE OR RELATED EVENTS.